Give a regular gift and become a Changemaker
As a Working Families Changemaker, you'll be part of a passionate community committed to removing the barriers that people with caring responsibilities face in the workplace. You'll receive monthly updates and invitations to exclusive events, ensuring you're always close to the action and can proudly share the impact your generosity and support makes.
Our Changemakers are the beating heart of Working Families, and your kindness goes a long way. A regular gift from you, large or small, makes an incredible difference.
£3 per month (£36 per year): could pay for 10 people to access our interactive Q&A legal clinics each month, covering topical issues like the cost of living, help with childcare costs and in-work benefits.



£10 per month (£120 per year): could pay for a specialist adviser to support four low-income working families over the course of a year, helping them to understand their childcare options, claim in-work entitlements and access to financial support.



£25 per month (£300 per year): could enable us to give advice to 14 working parents or carers each year, supporting their right to request flexible working and giving them the tools they need to approach their employer.



£50 per month (£600 per year): could pay for the provision of personalised online support to 12 working parents or carers who need our expert, in-depth knowledge and guidance.
Together, we can make change happen.
At Working Families, we confront the challenges that parents and carers face in the workplace, striving toward a future where everyone can thrive at home and at work.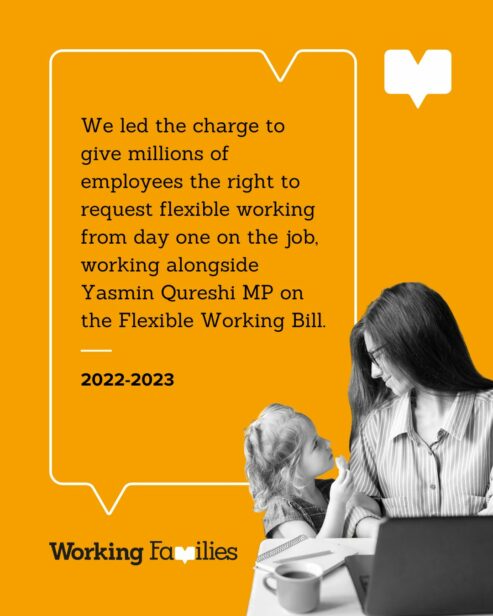 Every day on our helpline, we hear from people struggling to get by. The mother who has been fired just because she's pregnant. The father who can't access the basic flexibility needed to provide essential care for his children. The parent who is working three jobs but still can't find the money to pay for childcare and put food on the table. Everything we do is shaped by their lived experiences. It's only when we listen to working parents and carers that we can become experts in the field and use this insight to work practically with employers and policymakers to create better outcomes for families.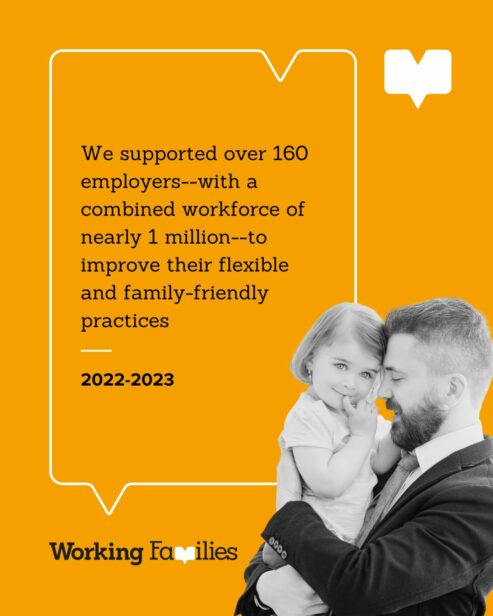 Your generosity ensures we can raise over £1 million each year to provide our award-winning free legal advice service, drive meaningful policy change, and work collaboratively with employers to create flexible, family-friendly workplaces for all. Join us on our mission, and together we can achieve a better working world for all parents and carers in the UK.
Please email fundraising@workingfamilies.org.uk to find out more.