Project and Research Partnerships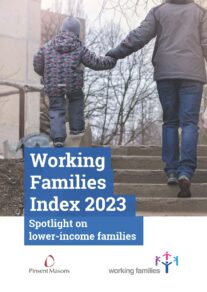 It is thanks to the generous support of our corporate friends, that Working Families can build a strong support network for families and organisations. We can grow our grow our reach through innovating our legal services, working with more employers and providing new ways to support the millions of working parents and carers across the UK.   
Our ground-breaking research informs our campaigns, policy and the lives of the UK's 13 million working parents. There are a range of research opportunities, from YouGov polls and impact reports to major collaborative studies like the Working Families Index.

We welcome corporate giving through donations, knowledge sharing, resources or sponsorship funding to support our work in this area.
Working Families Index Spotlight Report
2023 Official Partner – Pinsent Masons
The Working Families Index is the most comprehensive study of the experience of work and family life in the UK.
Offering insight into the labour market and workplace challenges that impact parents and carers, the study shines a light on challenges facing families in the current climate and helps drive change through shaping out policy work.
Put your brand at the centre of the conversation around work-life balance and demonstrate your understanding of the realities of modern family life by partnering this piece of research, and subsequent report and media launch.
Other ways to make a difference
If you're looking for further ways to make an impact, visit our Sponsorship page, where you can find opportunities throughout our calendar.
Interested?
If you would like to find out more about our projects and research partnerships, please get in touch by emailing Emma Mortimer, Strategic Partnerships Manager.