Working Families Announces Winners of 2020 Best Practice Awards
Published: 21 May 2020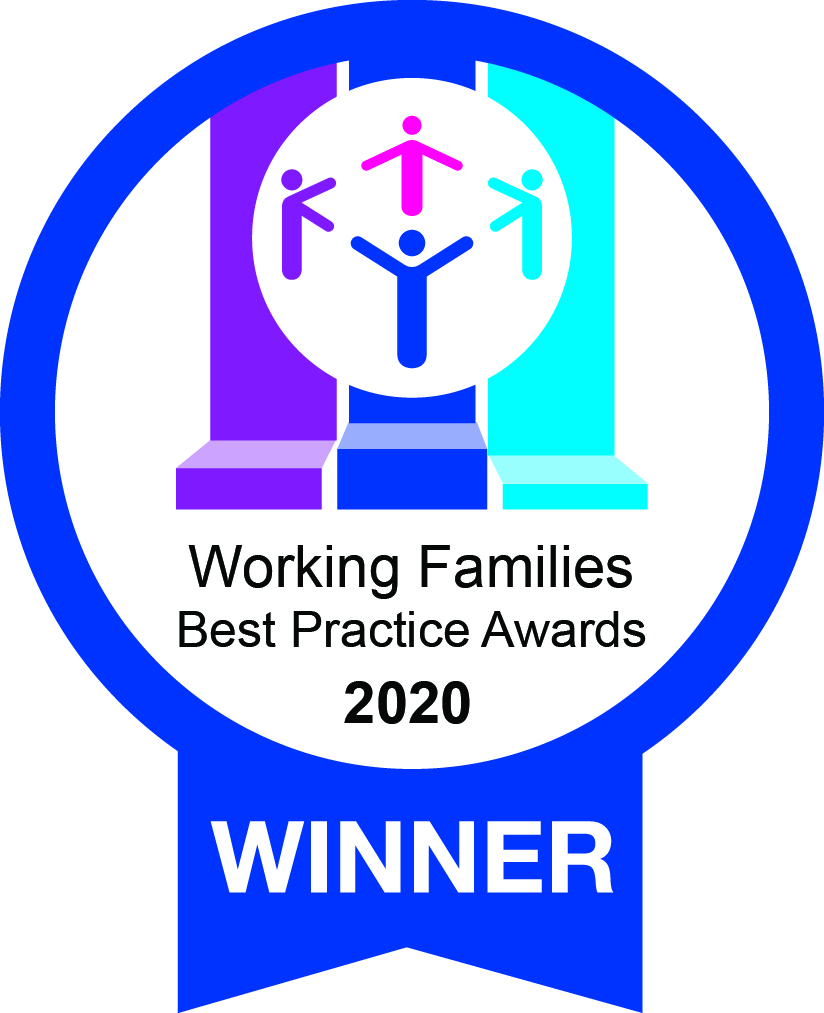 Work-life balance charity Working Families has announced the winners of its prestigious 2020 Best Practice Awards. Now in their eleventh year, the awards showcase and celebrate employers who are offering flexibility for all their people and going above and beyond in their support for parents and carers. 
Employers from a diverse range of sectors from across the UK competed for top honours in nine categories across a range of work-life policies and practices.  The winners are: 
Best for Mothers—sponsored by Arnold Clark 
Winner: Royal Air Force
Given the nature of the RAF's work and the fact just 14.7% of employees are women, its retention rate for mothers a year after returning from maternity leave is impressive at 82%. Maternity leave includes 26 weeks on full pay. Mothers can attend pre and post-natal fitness sessions and they can apply for flexible working.  
Best for Fathers—sponsored by Nationwide Building Society 
Winner: Aviva
Insurance firm Aviva offers men and women 26 weeks' parental leave on full pay. Fathers take an average five-and-a-half months off and almost a third (32%) say they work flexibly afterwards. There is a top-down culture of support for fathers taking parental leave, 95% of fathers said their leaders were supportive. 
Commended: Unibail-Rodamco-Westfield 
Best for Carers and Eldercare—sponsored by Crown Prosecution Service 
Winner: Nationwide Building Society
Nationwide defines a carer as anyone who supports someone who couldn't cope without them. Employees can self-identify as a carer by adding information to their HR personnel record. So far, 822 people (4.6% of employees) have done this. They automatically receive information about paid and unpaid carer's leave and flexible working options as well as an introduction to the employee-led Working Carers' Network, which runs regular events and offers peer support.  
Best for Flexible Working—sponsored by Schroders 
Winner: Hill Dickinson
A total of 80% of staff at international law firm Hill Dickinson work flexibly on an informal basis, while one in five employees has a formal arrangement. The company supplies all employees with laptops so they can work in the office or remotely. Line managers are trained to manage flexible workers and vacant roles are advertised as open to flexible working. 
Best Innovation (joint winners) 
Winner: Pinsent Masons
Pinsent Masons has developed a programme to empower and equip working parents and carers so they can support their children to achieve good mental health. The professional services firm recognises the impact poor children's mental health can have on parents' own health and performance at work, and it has created a comprehensive programme of staff events, networks and resources to help. 
Winner: Royal Air Force
The RAF has merged HR metrics and information from several sources into one central data repository to provide detailed, current information on the take up of flexible working and parental leave options. It means the RAF now has hard evidence with which to assess its policies, showing where they are doing well and areas for improvement. 
Best Returner Programme 
Winner: UBS
Senior men and women who've had at least two years away from work can apply for any role in any location at any time of year through UBS AG's Career Comeback programme. Returners are recruited directly into permanent roles for the financial services firm and receive high levels of support and networking opportunities to help them transition back to work. By March 2020, the programme had helped more than 150 people – of whom seven were men – back to work and 85% still work for UBS AG. 
Best Family Network 
Winner: Royal Bank of Scotland
The Royal Bank of Scotland's employee network supporting families, parents and carers has more than 1,600 members globally. This includes a sub-network for employees affected by fertility issues and infant loss. The proactive network steps in to support employees where discretionary polices have not been followed appropriately by line managers, but also support line managers in their decision making, and it has influence over the bank's family friendly working polices.  
Best for Mental Health and Wellbeing 
Winner: Crown Prosecution Service
A new Wellbeing Strategy has allowed the Crown Prosecution Service to maintain performance despite a 30% reduction in staff and an increase in highly complex cases. Annual health checks, mandatory training for line managers and a network of Wellbeing Champions who are happy to talk about their experiences are breaking down the taboo around mental health and are cutting staff sickness rates. 
Best Small Employer 
Winner: ILF Scotland
Offering 'life-friendly' flexibility to all employees means that ILF Scotland has happy employees and very low sickness absence. This is despite the organisation—which provides financial awards to more than 4,000 disabled people in Scotland and Northern Ireland—actively recruiting people with long-term health conditions and impairments. 
Jane van Zyl, Chief Executive of Working Families, said: 
"The coronavirus pandemic has changed the world of work, bringing flexible working to the forefront. Now more than ever, it's crucial that companies develop strategies and cultures that support flexible and family-friendly working—not only to support the people who need it most, but also to boost productivity, engagement, and resilience.  The winners of these awards set a stellar example for businesses across the UK." 
Working Families Trustee Mary Starks, Executive Director for Consumers and Markets at Ofgem and a judge for the 2020 Awards, said: 
"The COVID-19 crisis and lockdown have thrown a harsh spotlight on the challenges of juggling work and family responsibilities. But the reality is too many families have been juggling for too long. It is imperative that we organise our workplaces in a way that allows for our other responsibilities in life, and these awards show how the most progressive and innovative employers are doing just that." 
Harvey Tilley, Chief Operating Officer at ILF Scotland and a judge for the 2020 Awards, said: 
"Seeing the stories from these diverse and innovative organisations has been truly inspiring.  The calibre of leadership, the way they enable their staff, the results they produce and the impact they have on their specific sector and wider society is hugely positive.  At a time when we are all struggling with the consequences of COVID-19, these examples give me a real sense of optimism for the future of the workplace.  I hope they act as a guide to all organisations and ensure flexible working becomes even more widely used." 
Carolanne Minashi, Global Head of Diversity and Inclusion at UBS and a judge for the 2020 Awards, said: 
"The current situation with COVID-19 has forced most employers into a situation where enabling agile working has been a critical enabler to maintaining business performance where working from home is possible.  For others it has meant thinking creatively and out of the box.  For all of us we have had to find new ways to support our employees with caring responsibilities, particularly those with younger children.  The Working Families Best Practice Awards has always been a valuable source of leading best practice.  The rich diversity of sectors and size of employers involved means there literally something for everyone to be inspired by." 
For more information and/or to be put in touch with winners directly, contact Catherine Gregory at press@workingfamilies.org.uk 
ENDS
---
Notes to editors 
Case studies 
To access full case studies for each winner, please follow the links below:
 
Judging Panel
The judging process for the Best Practice Awards is anonymous; none of the judges know the identity of the companies they are judging.  
The judges for 2020 can be found at: https://workingfamilies.org.uk/employers/bestpracticeawards/best-practice-awards-judges-2020/  
Sponsors and Partners 
Schroders: sponsor of Best for Flexible Working award

 

Arnold Clark: sponsor of Best for Mothers award

 

Crown Prosecution Service: sponsor of Best for Carers and Eldercare award

 

Nationwide Building Society: sponsor of Best for Fathers award

 

Luton Airport:

Supporting sponsor

 

HR Magazine: Media partner

 
About Working Families 
Working Families is the UK's work-life balance organisation. We help working parents and carers—and their employers—find a better balance between responsibilities at home and in the workplace. 
We provide free legal advice to parents and carers on their rights at work. We give employers the tools they need to support their employees while creating a flexible, high-performing workforce. And we advocate on behalf of the UK's 13 million working parents, influencing policy through campaigns informed by ground-breaking research. Learn more at workingfamilies.org.uk.