Working Families Announces the UK's Most Flexible, Family-friendly Workplaces 2021 
Published: 8 Sep 2021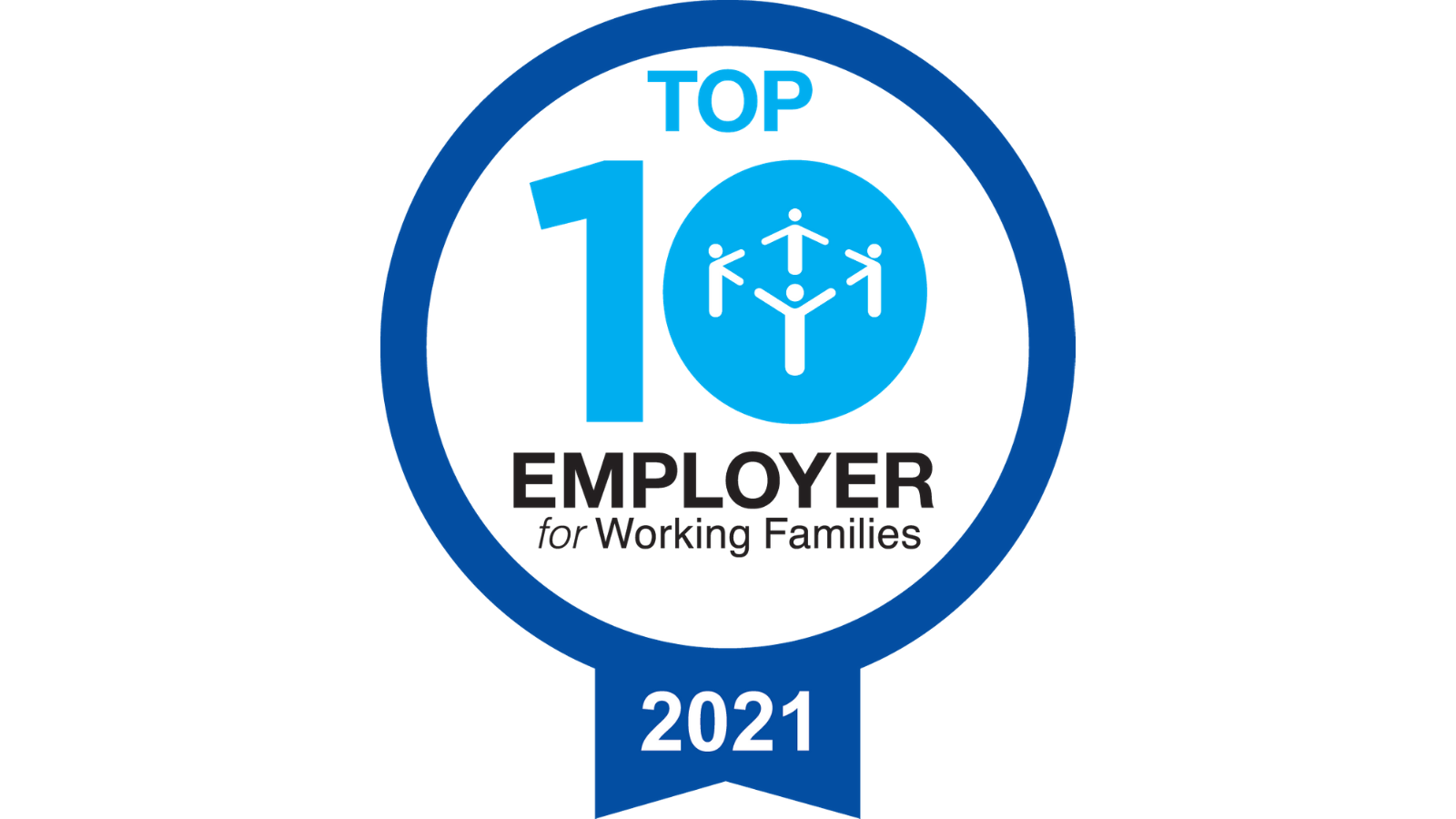 Working Families' prestigious Top Ten Employers 2021 includes a wide range of organisations from across sectors, including major banks, a small charity, a local NHS Trust and the Welsh Parliament
Insight from our Employer Benchmark Report shows the pandemic has shifted employers' views on flexible working: 86% of employers feel that line managers in their organisations have shifted to focus more on outputs, rather than the number of hours worked, thanks to changing working patterns over the pandemic
90% of organisations said the experience of working through COVID will open up opportunities for ongoing homeworking
Working Families has announced its annual list of the top 'family-friendly' employers in the UK. Now in its twelfth year, employers large and small from across the public, private, and third sectors compete annually to gain a coveted place on the charity's list of Top Employers for Working Families.
This year's Top Ten Employers for Working Families – in alphabetical order – are:
American Express
Citigroup
Crown Prosecution Service
Grant Thornton
Independent Living Fund Scotland
NatWest Group (RBS)
North East London NHS Foundation Trust
Pinsent Masons
Welsh Parliament (Senedd Cymru)
Yorkshire Building Society
The Benchmark—which captured the experience of nearly 500,000 UK employees across the organisations that took part—is also used to examine trends in flexible and family-friendly policies and practices. Key findings from the 2021 survey include:
Organisations have not returned to pre-COVID flexibility levels: over 60% of employers reported that they still had more than 75% of their employees working flexibly
Employers reported that managers are becoming more output-oriented, recognising that hours worked is not a reliable measure of productivity
However there is still a long way to go and training for line managers has emerged as one of the most pressing needs for organisations: 42% of organisations said lack of line manager knowledge or skill was a barrier to creating a family friendly, flexible workplace
On average, only a tiny proportion of senior leaders work flexibly or part time (less than 7%) with the majority of these being women (5%). This suggests that creating more flexible working opportunities at a senior level could help reduce gender inequalities around pay and progression.
Employers were assessed using Working Families' Benchmark and were scored on four key areas to build a comprehensive picture of their flexible and family-friendly policies and practices that specifically support mothers, fathers, and carers. These are:
integration to organisational strategy and culture – which looks at culture, attitude and how far flexible and family-friendly working practices have become embedded;
policy – which looks at the creation, development and deployment of flexible and family-friendly working policies and their take-up;
consistent practice – which considers how well flexible and family-friendly working is supported; and
evidence and statistics – which looks at the effects of flexible and family-friendly working on the organisation, and their ability to understand those effects.
Jane van Zyl, CEO of Working Families, said:
"After a year that has brought a succession of challenges and curveballs to employers of all sizes, it's lovely to be able to celebrate those organisations role-modelling the absolute best of flexible, family friendly policies and practice. Our Top Employers are leading the way in creating workplaces that support the whole person – encouraging and enabling their staff team to get the best possible balance between home and work life.
"As we finally move out of the reactive state the pandemic has put us all in, we know that more and more people will be prioritising wellbeing and flexible working when choosing their next employer. In fact, this summer 69% of parents told us they would apply for a job advertised as flexible over one that is not. It has never been clearer that for a business to attract the brightest and best talent, visibly championing flexible and family-friendly practices is absolutely key. And to see how it's done, you need look no further than our fantastic Top Employers 2021."
Download the Benchmark Report 2021
---
Register to take part in the Benchmark 2022
Find out more about Working Families employer membership.
Full List of Top Employers for Working Families
Top Ten (in alphabetical order)
American Express
Citigroup
Crown Prosecution Service
Grant Thornton
Independent Living Fund Scotland
NatWest Group (RBS)
North East London NHS Foundation Trust
Pinsent Masons
Welsh Parliament (Senedd Cymru)
Yorkshire Building Society
Places 11-30 on our Top 30 Employers – in alphabetical order – are:
Allen & Overy
Audit Wales
Brodies
ClwydAlyn
DAC Beachcroft
dentsu UK
DWF
Experian
Food Standards Agency
Imperial College London
Mayer Brown
Ministry of Housing, Communities & Local Government
Mishcon de Reya
Norton Rose Fulbright
Office for National Statistics
Royal Bank of Canada
Southdown Housing
Teach First
UBS
Unibail-Rodamco-Westfield