Concern about future from UK working parents linked to final restrictions lifting
Published: 17 Jun 2021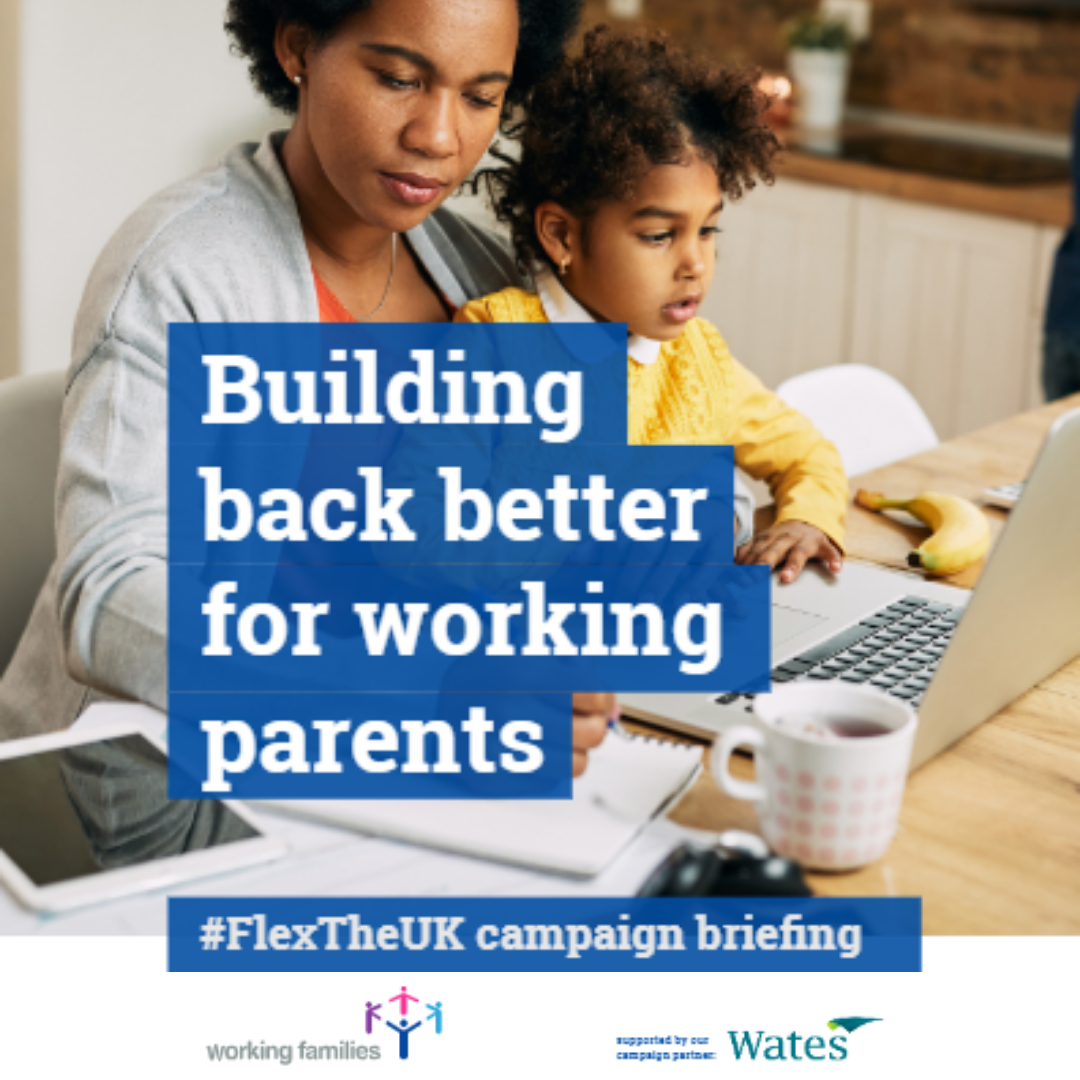 New polling shows nearly a third of parents (29%) are concerned their caring responsibilities will make them more vulnerable to redundancy when furlough ends, after juggling work and childcare through the pandemic.
50% of parents are concerned that a return to less flexible working, as final restrictions lift, will have a negative effect on their family life, after spending more time with children over the pandemic.
40% of working parents said that during the pandemic, caring responsibilities like childcare and housework were shared more equally than before: and 35% say they intend to keep it up post-pandemic.
Working Families are calling on employers and the government to take action now to prevent a backward slide in work-life balance when those final restrictions are lifted: by designing and advertising jobs as flexible from the outset, and actively encouraging staff to flex their roles.
Over the pandemic, the UK's 13 million working parents* have had to juggle childcare at the same time as meeting the demands of their job or finding suitable work. As we look ahead to the prospect of final restrictions being lifted and more workplaces opening up, a new briefing for Working Families' #FlexTheUK campaign, partnered by Wates Group, shows concern from many parents about a backward slide to less flexible work, and a desire to keep the positive changes that the pandemic has brought for their family life.
The YouGov polling highlighted just how mixed experiences have been over the course of more than 14 months of restrictions and lockdowns. While most working parents felt supported by their employer to manage their childcare arrangements (for example by changing their working patterns to manage home-schooling and caring responsibilities), a striking one in five working parents (19%) say they did not get any support from their employer to manage the challenges of being a parent during the pandemic. We also saw that middle class parents were far more likely to be given the chance to work flexibly and report the benefits of it on family life. In contrast, working class parents were less likely to have access to flexible working arrangements and, even when they did, they were less positive about its impact on family life.
Having been through a year of disruption and change to work and family life, it's clear that many parents are keen to retain the positives that have come out of the pandemic when the final restrictions are lifted. 50% of parents are concerned that moving back to less flexible ways of working after the final restrictions are lifted will have a negative effect on family life – with more women than men expressing concern (53% v 47%).
The upcoming end of the furlough scheme is also causing concern for a very significant minority of parents. Nearly one in three (29%) parents who have worked throughout the pandemic are concerned that their caring responsibilities will put them at higher risk of redundancy once furlough ends. This worry is even more pronounced for women (34%) and working class parents (35%). This highlights how precarious work is for many parents, showing the need for more protections against redundancy to be brought in urgently – particularly for pregnant women and new parents.
Parents overwhelmingly want the government to intervene to create more flexible jobs (77%), and for employers to use their own initiative to do so (84%). A clear majority say they would be more likely to apply for a job that's advertised as flexible than one that's not in the future (69%).
The results of this polling send a strong message to both government and employers to prioritise flexible working to 'build back better' from the pandemic. As part of the #FlexTheUK campaign, we are calling for:
Employers to design and advertise jobs as flexible, and actively encourage flexible working as a way to support working parents and enhance wellbeing.
Government to bring forward their new Employment Bill in 2022 and include a duty on employers to make jobs flexible unless there is a business case not to; and take action against insecure employment practices.
Charmaine, a working parent, said:
"During the pandemic my husband started to work from home for the first time. This meant that he could spend more time with our daughter and help me more around the house. I returned to work after maternity leave and I was also asked to work from home. This made home and family life much easier for us to manage as we both have long commutes to and from work. We worry that as life returns to normal we may be asked to return to the office and this would make managing family life more difficult. We feel it would result in a negative impact on us and our daughter."
Jane van Zyl, CEO of Working Families, said:
"Working parents have had a uniquely challenging time over the pandemic – juggling the demands of work with childcare and homeschooling. Our new polling shows that as we move out of those final restrictions, the anxiety isn't over yet for many working parents. Lifting the final restrictions on our daily lives will of course be hugely welcome in so many ways, but this new research shows how critical it is employers manage that transition sensitively, make the wellbeing of their staff teams a priority, and support working parents to keep the gains to family life they have seen through the pandemic.
"We are seeing, both through this polling and calls to our free legal advice service, a very real concern that parents who have had caring responsibilities through the pandemic will be most vulnerable to redundancy when the furlough scheme ends. It highlights the precarious nature of work for many parents, and the need for better redundancy protections for people with caring responsibilities.
"This polling sends a strong message to employers that if they want to reach a more diverse talent pool, including from the 13 million working parents in the UK today, they need to be building flexible working into jobs from the start. We are asking managers to focus on the quality of the work being delivered, not on demanding rigid times and places for working. As we work together to figure out our 'new normal', one thing is very clear: to go back to old, inflexible ways of working would not just be a bitter blow for many parents, it would make extremely bad business sense."
 David Allen, Chief Executive of Wates Group, campaign partner for #FlexTheUK, said:
"As a family business Wates is committed to doing everything we can to help colleagues balance their parenting or caring commitments with work.  It's why we were so keen to be involved in the #FlextheUK campaign. In our recent employee survey, 40% of respondents identified as being parents or having caring responsibilities. They told us overwhelmingly that they want the flexibility to manage where and when they work.
"We've listened and have responded by producing a set of flexible working principles.  They combine some of the positive adaptations we've made over the last 15 months and the good habits which have allowed us to collaborate and perform so well in the past.  We're encouraging colleagues right across the business to use the next few months to experiment with different working patterns: to find what works for them; to show us what they want their working life to be like in the future; and to use these new flexibilities to enable our teams to perform at their very best."
---
Notes to editors
#FlexTheUK is the campaign for flexible working run by Working Families. For queries please contact press@workingfamilies.org.uk
All figures, unless otherwise stated, are from YouGov Plc. Total sample size was 4,357 adults. Fieldwork was undertaken between 20th – 23rd May 2021. The survey was carried out online. The figures have been weighted and are representative of all UK adults (aged 18+). This briefing is based on answers from 1,043 parents of children aged 18 and under, of which 839 have been working during the pandemic
*extrapolated figures, calculated by Working Families UK
Our #FlexTheUK campaign partner is Wates Group. Established in 1897, Wates is one of the leading privately-owned construction, residential development and property services businesses in the UK.  It employs approximately 3,700 people and works with a wide range of public and private sector customers and partners.  Everything it does is guided by its purpose of working together to inspire better ways of creating the places, communities and businesses of tomorrow.  Now in its fourth generation of family ownership, Wates is committed to the long-term sustainability of the built environment and is working to eliminate carbon from its operations by 2025.  To fulfil its ambition to be a truly inclusive employer and to reflect the richness of the communities in which it works, Wates is committed to doubling the proportion of women at all levels of its business and to becoming more ethnically diverse.  In 2021 Wates was recognised for Private Sector Leadership at the National Social Value Awards.  Visit: wates.co.uk