Published: 8 Jun 2022
SF Recruitment – Winner 2022, Best Flexible Working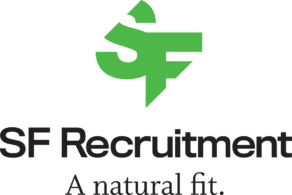 SF Recruitment's dedication to flexibility is driven by a belief in the benefits for both individuals and the business, evident in the resounding success of their comprehensive flexible model.
What flexibility looks like
Flexibility is a central part of SF Recruitment's business model. From day one employees are given the autonomy, written into contract, to manage their time with the freedom to work their hours in the pattern and location that works best to support their family commitments. Part time working is actively encouraged, with 12% of the workforce currently working part-time. Taking the generous 30 days annual leave is actively encouraged, and two wellbeing days offered to recharge batteries and promote good mental health.
A healthy work-life balance is modelled actively by the senior management team, who are all parents, and utilise the flexibility to meet their caring responsibilities. An example is the CEO trialling a flexible return to work, using additional leave to ease the transition back to work, which resulted in flexible leave and return to work options becoming company policy, in addition to parental leave.
A culture of flexibility
The pandemic brought employee wellbeing into focus, with SF Recruitment deciding to centre flexibility as a way to provide support and enable career success. SF Recruitment have made a pledge to commit to hybrid working, in recognition that such a model generates an engaged workforce that is crucial for sustainable success.
There is a recognition in SF Recruitment that one size does not fit all and so career paths are tailored to the individual, focusing on natural talents, strengths and personal aspirations. In 2021 five new job titles were created to accommodate employee career goals, two of which were part-time, flexible roles to support returning to work parents. Furthermore 48% of employees were promoted into more senior roles, all of whom were working flexibly.
The business case for flexibility
Flexibility has proved to be successful in expanding the workforce, which has grown 60% in the last 12 months, but also retaining talent, with attrition levels currently sitting at just 2.5%. Engagement has risen to 9 in the last year and there has been a huge boost in productivity, with the average staff performance moving from £8,600 of sales per month in 2020 to £16,400 in the last 12 months. This is reflected in staff earnings, with the average employee earning 29% more than the previous year and the results for the company seeing a similarly positive impact with 34% growth in income and 96% growth in profit.